St. Albert Real Estate Market Stats - August 2022
Posted by John Carle on Tuesday, September 6, 2022 at 8:07 AM
By John Carle / September 6, 2022
Comment
It will come as no surprise to anyone that August was a slow month for real estate in St. Albert. But how slow?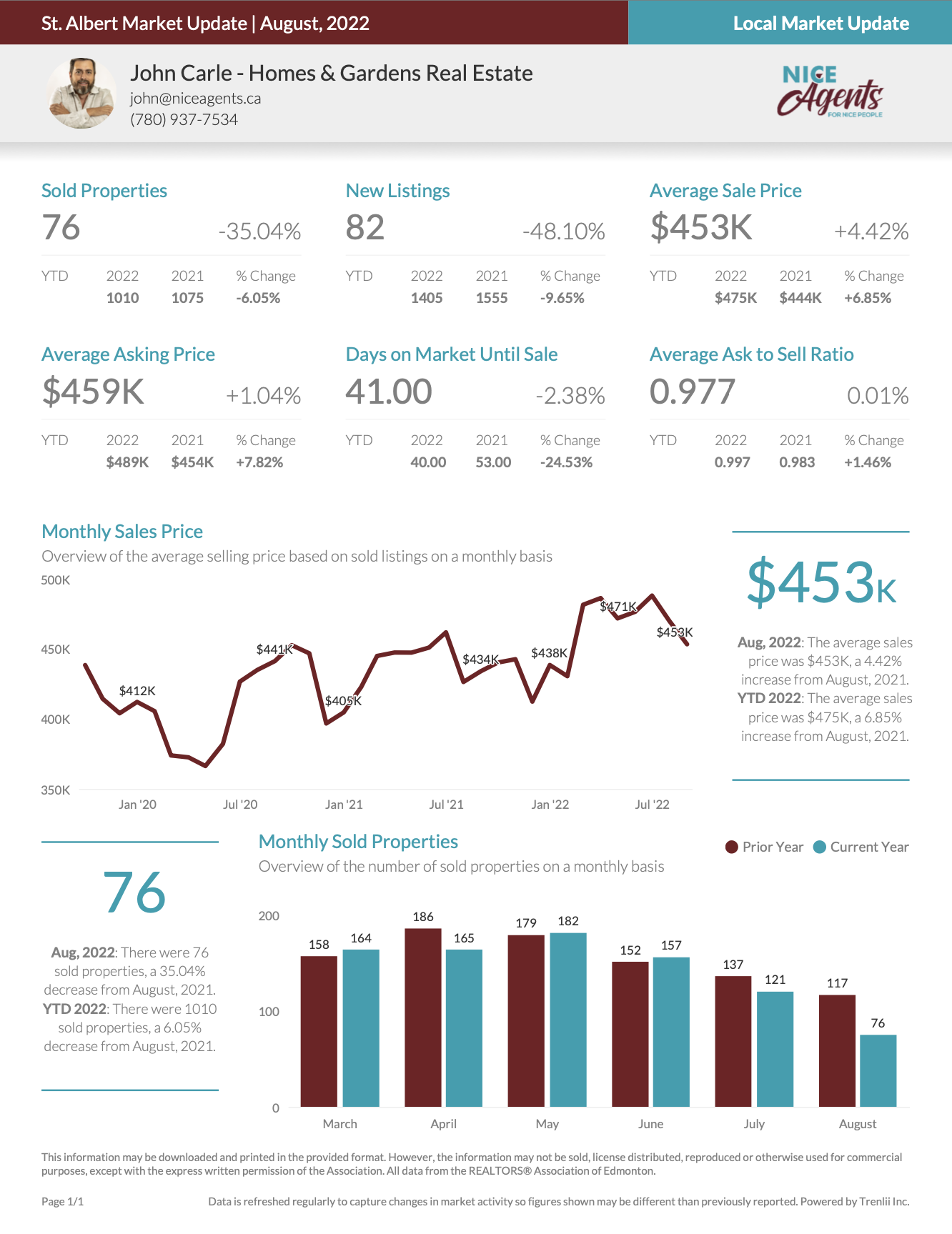 In August of 2022 we saw 76 homes sell, a decrease of 35% vs August of 2021 which saw 117 home sales. For an additional comparison, July of 2022 saw 121 home sales.
The average sale price tells an intersting story. In July of 2022 we had an average sale price of $470,000 which has come down to $453,000 in August. Yet we are still selling for more than we did in August of 2021 by 4.42%. The HPI INdex (House Pricing Index) is a more accurate measure of home values, and shwos that the average home in St. Albert has not changed significantly in value this summer.
Year to date sale values are down only 0.1% vs July at an average of $476,000 YTD for July and $475,000 YTD in August. This is too small of a change to indicate growth or shrinkage, it's within the statistical margin.
What does all this mean? It means that fewer people bought homes in August, and the homes they did buy are in a lower price point than they were in July. This lower price point is likely due to the increase in home ownership costs, which are driven by higher interest rates and inflation affecting everything from utilities to renovations to moving costs.
What do we expect for September? Sales volume should be closer to September of 2021, buyers will continue to be active in lower priced homes than they were in July, and house values will remain flat through the rest of the year.
If you're wondering how your homes Equity Position is affected by the current changes in the market, follow this link to talk to one of our agents about your current home value.