Posted by Darlene Kassian on Wednesday, May 31, 2023 at 9:00 AM
Comment
The Bank of Canada's decision to pause interest rate hikes after a series of increases throughout 2022 significantly impacted the Canadian real estate market.
With interest rates reaching 4.5 per cent in January 2023 and remaining steady since then, Zoocasa has analyzed data to assess how home prices have changed in cities across Canada.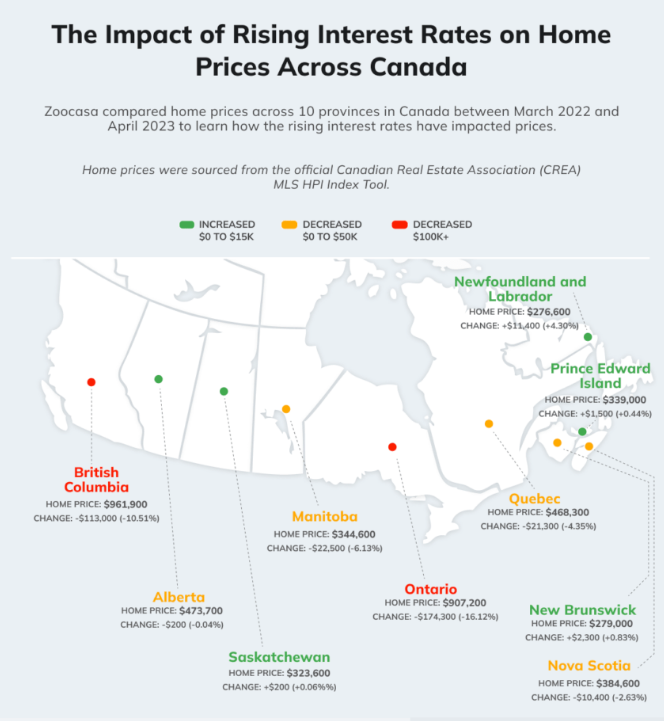 Changes in home prices across Canada's provinces
The provinces with the highest average home prices, such as British Columbia and Ontario, have experienced significant price dips since the rate hikes began. British Columbia saw a decline of $113,000 (10.51 per cent), while Ontario suffered the largest dip of $174,300 (16.12 per cent).
On the other hand, the more affordable provinces have seen price increases, with Newfoundland and Labrador experiencing a 4.3 per cent increase ($11,400) and Alberta remaining relatively flat with a minimal $200 difference in average price ($473,700).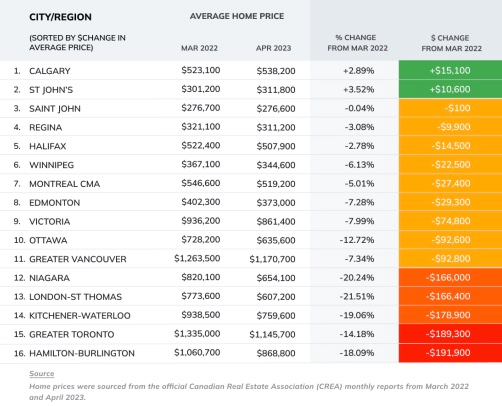 Major cities experience varying price trends
According to data from the Canadian Real Estate Association (CREA), the top five cities with the greatest declines are all located in Ontario, including Toronto and Hamilton–Burlington, which saw prices fall by $189,300 and $191,900, respectively.
London-St. Thomas experienced the highest percentage decline of 21.51 per cent ($166,400). In contrast, Calgary has seen increased popularity and more affordable housing, resulting in price increases of $15,100 since February 2022, while St. John's, one of Canada's most affordable cities, witnessed price increases of $10,600.