Edmonton Real Estate Update - April 2023
Posted by John Carle on Thursday, May 4, 2023 at 10:30 AM
By John Carle / May 4, 2023
Comment
The Edmonton real estate market in 2023 continues to be slower than 2022, but it's showing signs of activity improvement.
For the month of April, Edmonton real estate sales are down 32.54% vs. April of 2022. But compared to previous months in 2023, we are seeing a trend of increasing sales. Hopefully that trend continues as interest rates continue to stabilize.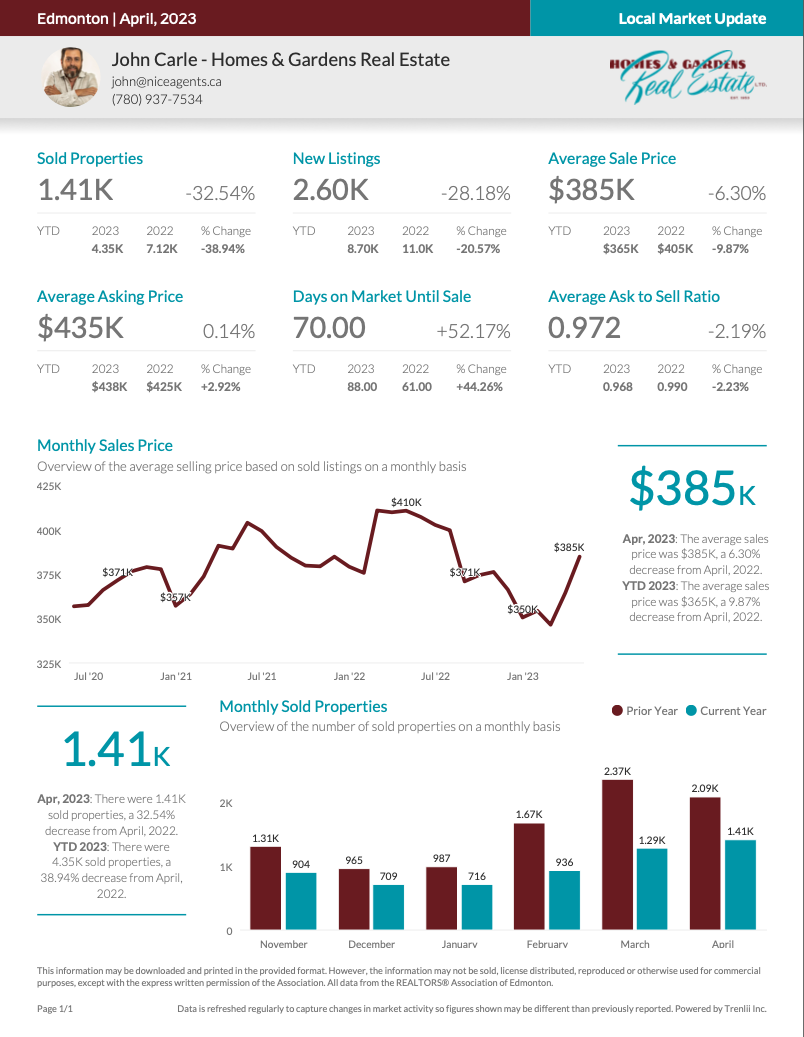 Buyers are still hesitant, as evidenced by homes being on the market for 52% longer than this time last year. This isn't necessarily a bad thing, buying a home is a big decision and it's reasonable for a home buyer to take time to make the right decision.
Likewise, buyers continue to be price conscious. Price continues to be a factor in the buying decision, as evidenced that the average sale price is 6.3% lower than it was last year. This doesn't mean your home is worth less money; it just means buyers are buying lower priced homes.
This is further reaffirmed by the average asking price, which is essentially unchanged from this time last year.
Watch for the Bank of Canada to meet in early June. Maintaining the current interest rate, which is what's expected, will be a clear sign that inflation fighting rate hikes are over which should give consumers confidence. Likewise it will send a signal to home buyers that the current rates are here to stay; many people are thinking rates will drop again. That's not likely to happen in the next several years.
If you're looking for a home, have a try of our awesome MLS search feature at NiceAgents.ca You can view all listings for sale, mark & save favourites, and share listings with yoru spouse... all from 1 easy to use mobile friendly interface.