Edmonton Real Estate Market Update - September 2022
Posted by John Carle on Friday, October 7, 2022 at 2:22 PM
By John Carle / October 7, 2022
Comment
There's no doubt that the Edmonton real estate market has has a bumpy ride in 2022. There's a lot going on in the world, and it's affected us all. But how bad has it been?
IF YOU'RE LOOKING FOR A NEW HOME, VISIT WWW.NICEAGENTS.CA FOR THE BEST HOME SEARCH EXPERIENCE AVAILABLE.
Starting with the average sale price, we can see that not much has changed when compared to a year ago. The average sale price in September of 2022 was 1.57% lower than it was in September of 2021. That's not a major change; it could just be that less expensive homes have sold.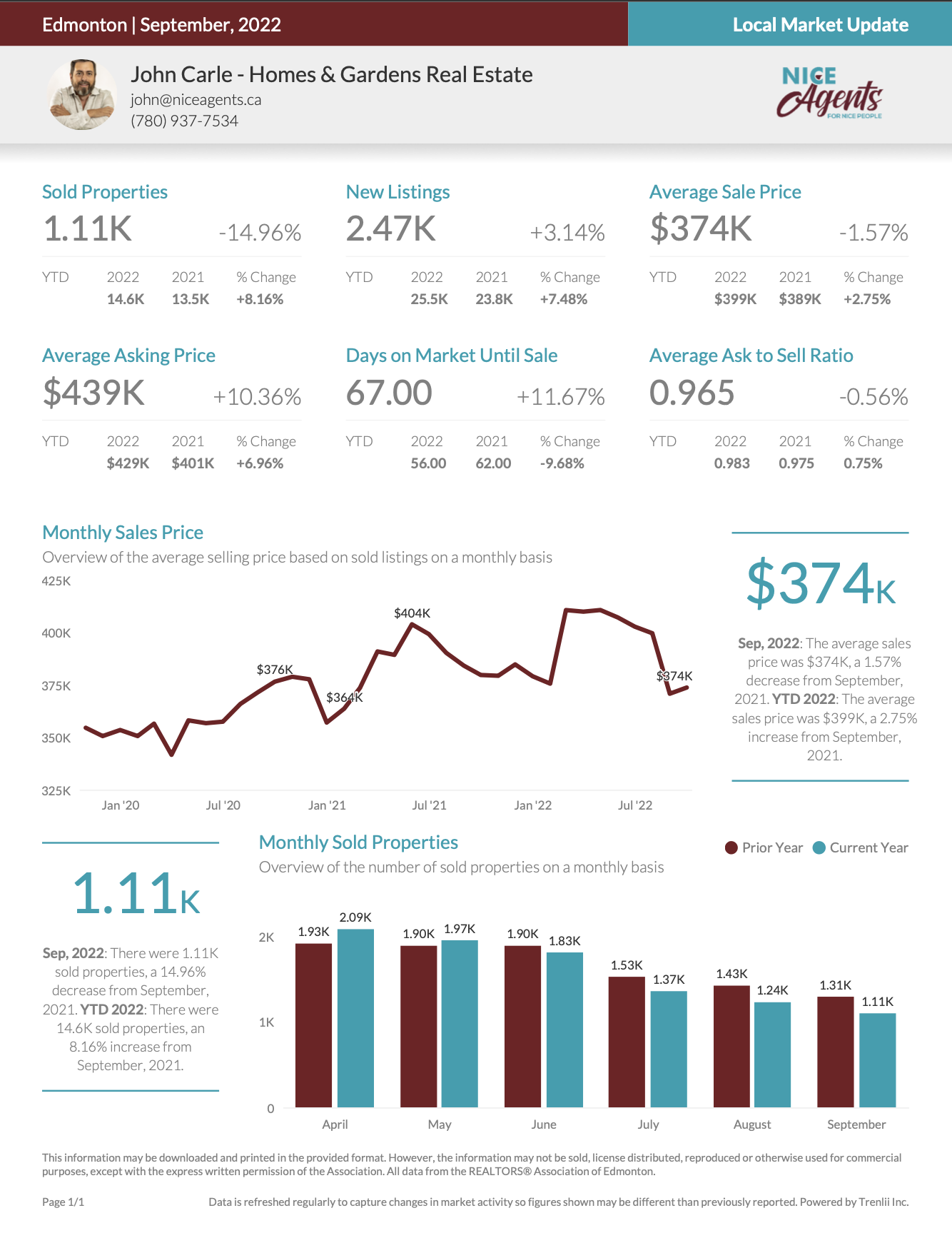 Where we see the slow down is in transaction and listing volumes. In September of 2022 we saw 1,110 sales. That's nearly a 15% DECREASE when compared to the same month last year. So there's no doubt that the market sales volume is slowing. Yet the total sales so far in 2022 still outpaces the total sales volume in the same timeframe in 2021. The first half of 2022 was that busy! We've seen sales volume coming down consistently for the last several months.
Listing volume is actually up. The Edmonton real estate market saw 2,470 listings in September of 2022 which is more than a 3% increase compared to September of 2021. That's significant. In fact, the total year-to-date listing volume is up 7.48% over 2021. That's very significant.
Homes are also taking longer to sell. The average sale took 67 days to sell. That over 11% longer than the same month in 2021. WOW! There's no doubt the market has slowed down, but the value of homes in the market hasn't shifted much, if at all.
A slower market isn't necessarily a bad thing; buyers have time to make a confident decision and sellers have time to really feel the market and ensure they're getting maximum value for their home.