Big Lake Communities Real Estate Update - April 2022
Posted by John Carle on Tuesday, May 3, 2022 at 1:40 PM
By John Carle / May 3, 2022
Comment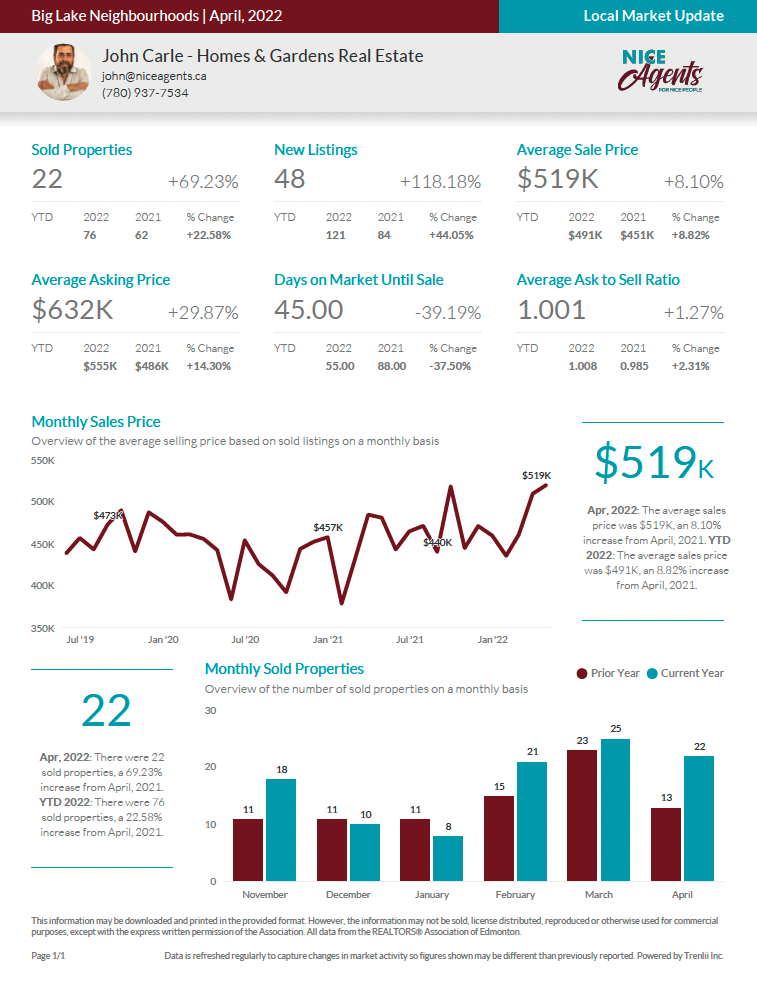 The Big Lakes communities have had a great run in 2022. The average time to sell is down, the prices are up, and homes continue to sell for over their asking price.
In April of 2022 the Big Lake Communities saw 22 sales, a 69% increase over 2021. For comparison Edmonton saw a 9.85% increase and St. Albert saw a 10.75% decrease in sales volume compared to the same month last year.
Thew average sale price was an astonishing $519,000, and 8.1% property value increase over April of 2021. Not surprising given that the average sale price continues to be over the average asking price, at 1.001% of asking.
Homes are also selling faster, 45 days on average. That's a 39% decrease from the previous year.
Starling, Trumpeter, Kinglet and Hawksridge continue to draw more interest and attention from home buyers. The recent addition of some commercial offerings has certainly helped the overall appeal of these bedroom communities.
You can download the PDF version of the April 2022 Big Lake Real Estate Market Update at Big_Lake_-_April_2022.pdf

If you would like to know the value of YOUR home in this market, please visit https://www.niceagents.ca/sellers/free-market-analysis/