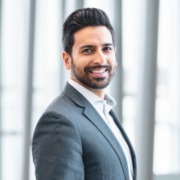 Owning a home is an investment that is foundational to your long term success; it brings stability and assurity to your family's financial future. As a Chartered Professional Accountant, Faizal (Faiz) knows how important it is to make smart financial decisions and has seen first hand the results of sound fiscal planning. The birth of his daughter, reminded Faiz of the emotional stability that a home brings, providing his family with a safe and supportive home has become the most important thing in his life.


It is through combining his financial background with his love and understanding of family that Faiz realized where he needed to be. He can help more people and he can have a more personal impact, by being there for other families as their trusted real estate advisor. This is why Faiz has decided to combine his impressive financial experience with his passion for family; to create a truly unique real estate service that supports each family's unique housing needs while still weighing and measuring the financial decision that comes with it.
"It all comes down to relationships. The relationships in the family, with the community as a whole, and even the relationship with the investment. Starting any of those relationships off right gives a greater chance of long term success. If I can create a great start to these relationships, then I will have made a difference in my clients' lives. That's what matters to me." - Faiz Jessani
Working with Faiz will expose you to a high energy and enthusiastic professional with a strong focus on attention to detail who is committed to ensuring the process goes smoothly for his clients. His financial background will give you an edge in the market, but the true advantage he brings is his ability to understand both the financial and emotional decisions you're making when you buy a home.
Your success is his success.